Laser Hair Removal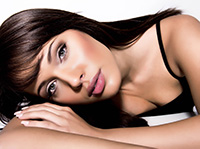 Laser Hair Removal has been a popular cosmetic procedure ever since it was introduced in the late 1990's. The procedure is a quick, painless way to permanently remove unwanted hair growth. Instead of painful waxes or irritating creams, this procedure uses the power of light to remove hair from the root. A gentle beam of laser energy is focused on to the surface of the skin, which targets the hair follicles underneath. The energy is the absorbed by the hair and transformed into heat. This process instantly destroys the hair follicle from within, preventing future hair growth. A single laser treatment will greatly slow hair growth and repeated treatments can remove hair permanently.
Laser Hair Removal works with pinpoint accuracy and is perfect for removing unwanted hair from specifically targeted areas. Typically 4-6 single treatments are required to be effective in each area. Packages of 6 or more receive 10% off.
Receive our Med Spa monthly specials
For questions, to schedule an appointment, or to learn more about procedures and our other services, contact Medical Spa today.